The best charging device available at best price for value
You will not be disappointed.
We use what we sale, we know the product!
check: http://www.store.revolectrix.com/Products?ext=F Every think you see there we can order but we stock the basic charger and to be fair we know the need and what we stock is what you need! Buying bulk means we have the best price in town!
Example: this GT 1200, capable of 8 s and 40 amps is at 248AU$:
it will charge my 8s-22000mAh in about an 40 minute from 30% fuel level. This is the best value for money! And its solid and has got a fantastic reputation in USA which is the most difficult market.
The power supply is 1200 watts and deliver 24 volts and 55 amps. All Revolectrix work with 12 to 24 volts! People ask why 24 volts? Because if you want to charge 5s to 8s it is 100 time better to start with 24 volts rather than 12-15 volts! The efficiency go up, hence the charger doesn't convert 12 volt to 35 volts ( 8s ) so it doesn't get hot! the main reason for failure is the heat!!!
GT 1200: 248AU$!
1200 watts of power you can blow 40 amps! Fats charge has become very easy. Remember connected to a board you could be charging 4 battery at 10 amps hence he 40 amps!
Power supply 1200watts: 290AU$
Powerlab 8 / EC5 : the best of the best: 307AU$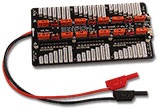 6 power board: you can charge 6 battery of the same cell count with the Powerlab8 and GT serie: There is 6 fuse too so its protected. The is anti spark included, so you don't damage your connector! 78 AU$ on special!
Connector for the board and the powerlab or GT charger: 9.90AU$